A BREATH OF PLEIN AIR OPENING RECEPTION WAS AN HIT!
Written By - Marisa Herrera-Keehn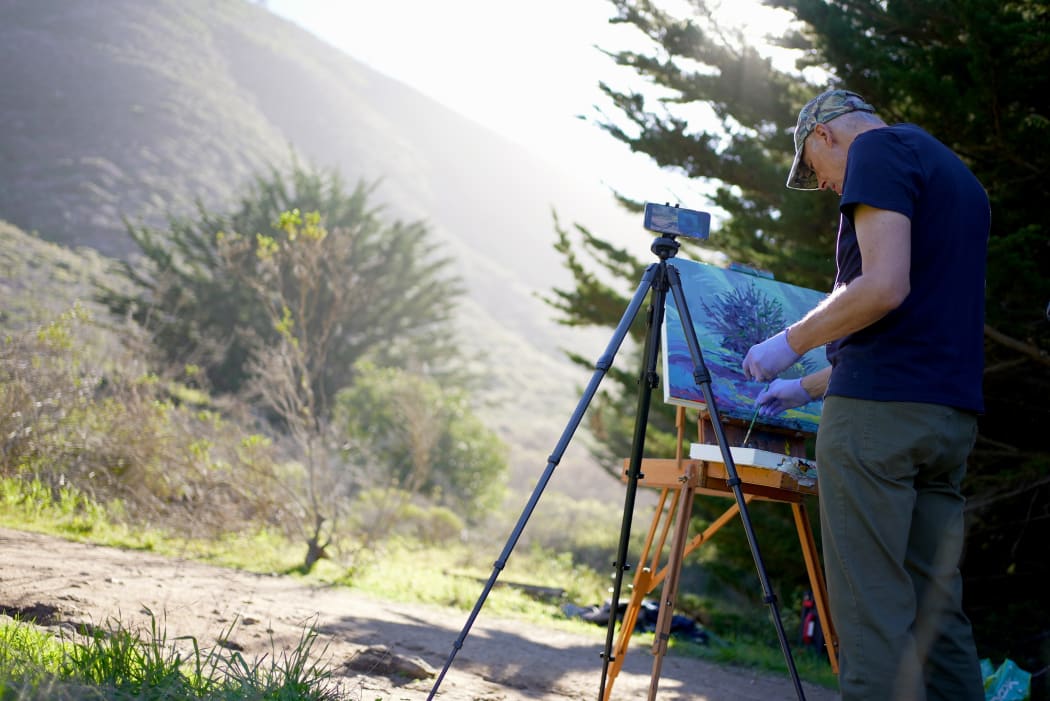 The streets we're bustling with people eager to return to the annual Carmel Art Festival in California's Carmel-by-the-Sea. The annual Plein Air Art Competition would take over Ocean Avenue, sending local artists out into town to create wonderful pieces. From oil to acrylic, there was no shortage of art supplies and art enthusiasts.  
To celebrate the return of the Carmel Art Festival after the COVID outbreak, Artist Simon Bull premiered his first Plein Air Exhibition cleverly titled "A Breath of Plein Air". While his creative focus has been on his studio works over the years, their inspiration comes from his frequent excursions into nature. Simon's retreats into the landscape have produced a body of sketches, notebooks, and Plein Air paintings, many of which have never been available to the public until now.
Plein Air is a French term that means "To Paint Out of Doors". Here in California, there's never a shortage of beautiful scenery, which is what drew Simon to the Central Coast. From the winding cypress trees to the breezy beaches, Simon has painted his own unique perspective on them all. A Breath of Plein Air is the first of it's kind for Simon Bull, since most of his Plein Air pieces had been kept in his private collection. Allowing new and previous collectors the opportunity to see and fall in love with Simon's work.
On May 14, 2022, MEUSE Gallery St Helena opened their doors to a diverse group of lovely people. From the curious passers-by, to the collectors, they all gathered together to celebrate the first Plein Air Exhibition from Simon Bull. Friendly conversations and wonderful company, the opening reception of our latest exhibition was an all around success.
Then on May 15th, 2022, Simon made an appearance during the Opening Reception of the exhibition in Carmel-by-the-Sea. Catered by the wonderful Chef Bruce Finch (A Party for your Palate) with wine donated by Joullian winery, the gallery became the ultimate event. An intimate gathering of collectors and close friends stopped by to witness some of Simon's paintings depicting some of their favorite spots along the California Coast.
We want to thank you for attending our receptions and we hope to see you at our next event! If you're interested in viewing the exhibition, click HERE to see a 360* view of our St Helena Gallery and our Plein Air Exhibition. 
A Breath of Plein Air will be available to view in St Helena and Carmel-by-the-Sea until the end of May 2022.