THE FREE BIRDS OF LOCKDOWN EXHIBITION OPENING RECEPTION WAS A SMASHING SUCCESS!
Written By - Marisa Herrera-Keehn
Full Article Here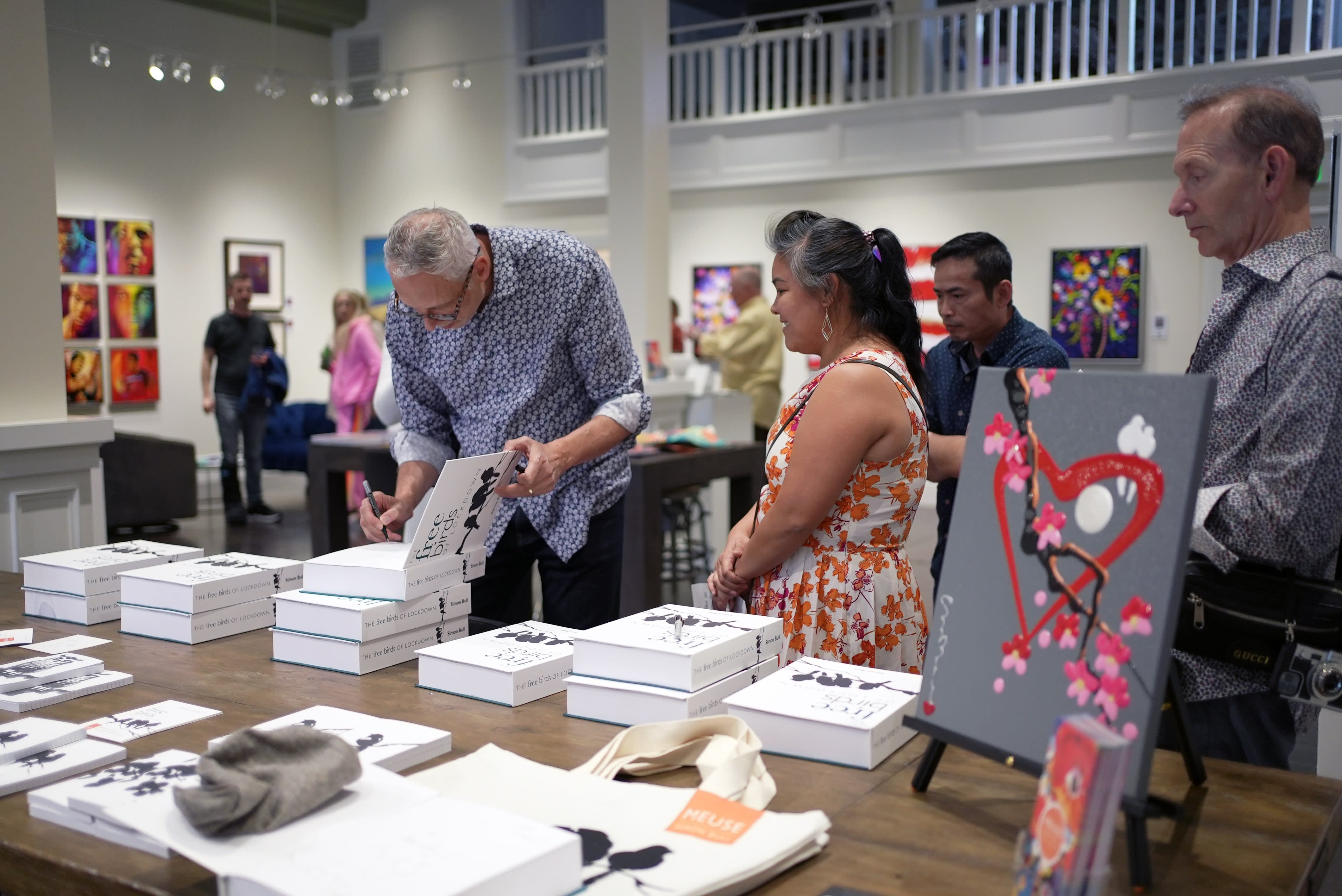 Simon Bull signing the Free Birds of Lockdown Book
"As we were being restricted physically, I felt the idea of birds spoke of freedom. The art, also being free to all who asked, gave it a double, rather fun meaning." - Simon Bull
When the clouds of the COVID-19 Pandemic finally broke into the storm that would put the world into lockdown, Simon Bull responded by making art—art that reflected the moment.
When everyone was sheltering in place, he offered to paint a unique ink and brush rendering of a bird for all who asked, at no charge. Each unique rendering would be free—free as a bird.
It was the artist's way of sharing love and hope with the world as uncertainty and fear held us all in its grip.
The idea was simple: A video promoting the offer was made and those responding were directed to a website where they could order up to nine studies per household. There was a modest handling charge and options to upgrade their gift with certificates of authenticity, frames, etc., but at all times, the art itself remained free.
When the offer went live, the studio was inundated with orders which took several months to complete.
The whole collection has now been gathered together in this volume which serves as a catalog and record of an extraordinary event.
Flash forward to March 26th, 2022 - the Exhibition was finally ready to launch. An exhibition that would allow more people to see the beauty that Simon saw during a time of great struggle. The walls were painted, pieces were hung, and the doors finally opened on the Exhibition of a Lifetime. 
A lovely group of couples, friends, and family, stepped into our gallery and were introduced to the magic Simon brings to each piece he creates. Some were so enchanted they brought some pieces home! It was the perfect evening, from the weather to the company. 
MEUSE would like to personally thank everyone who attended our Reception and HALL Wines for providing the amazing wine. We can't wait to see you at the next Exhibition!