Carmel artist Simon Bull usually unveils a new car-inspired painting this time of year. This year, he's opted for an entire exhibit inspired by cinematic car chases.
Written by - Rey Mashayekhi
Read the Full Article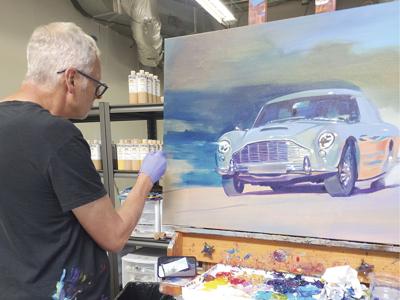 SIMON BULL STUDIOS
If cars have always proven rich cinematic fodder, car chases are gourmet feasts capable of delivering some of cinema's most memorable moments. Movies are tailor-made to capture the rapid, powerful movements of sleekly engineered automobiles whipping through cities and landscapes, while cars themselves connote freedom, romance and modernity – making them ideal vehicles for cinematic storytelling.
But as artist Simon Bull notes, absent of motion, photos and film stills of cinema's greatest cars and car chases fail to capture their kinetic glory. Painting, however, can bring their energy to life using color, texture, space, shape and line – recapturing what makes them special on screen while adding the artist's own perspective.
Written by - Rey Mashayekhi
Read the Full Article