In collaboration with the Carmel Dance Festival, local artist Simon Bull finds a way to freeze movement in time.
Written by - Sloan Campi
Full Article Here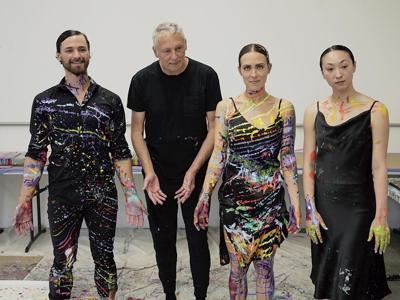 English-born, Carmel-based artist Simon Bull, known primarily for his colorful paintings, is interested in impact – and in creating works of art that can stand the test of time. Recently, by melding his primary medium with dance, he found a way to impact an audience through a performance partnership with Lillian and Grant Barbeito, founders of the Carmel Dance Festival and Ballare Carmel.
The May 13 performance, titled "For the Love of Dance," co-mingled dancers with colorful streaks of paint on canvases throughout Bull's Ryan Ranch studio, effectively creating a dynamic experience out of a static medium. Bull had figured out a way to incorporate the experience of the dance into his art without simplistically (albeit entertainingly) throwing paint at the dancers. Rather, as the dancers performed to ethereal music, they held canvases that Bull streaked color onto – with some paint ending up on the dancers' clothes as well. At its conclusion, a 17-by-6-foot original painting of the performance was revealed, in addition to several smaller canvases effectively freezing the movement in time.
"What I'm interested in is creating actual works of art that endure for a thousand years afterward, that are intentional," says Bull, referencing works that have inspired him, such as those by Italian sculptor Michelangelo and the French post-war artist Yves Klein.
Written by - Sloan Campi
Full Article Here